Physicians predict a continuing decrease in pharma manufacturers' activity
2013-04-25 08:27:00
Research

According to surveys carried out by the research company 2 years ago, at the beginning of reforms of healthcare policies, 40% of physicians strongly agreed, and an additional 47% of them agreed, that pharma activities and support towards physicians will decline. The study completed in the beginning of 2013 further prove this vision since this time 63% of respondents agreed fully, and an additional 30% agreed with the same statement.
Based on the new survey almost every other healthcare professional (45%) trusts that some pharma manufacturers will leave Hungary, while an additional 41% sees this as a possibility. (These numbers were similar in 2011.)
Two years ago already 80% of healthcare professionals predicted a decrease in pharma sales rep visits. According to the recent results, almost 70% of them anticipate continuous decline.
Support for professional events decreased the most
Among the declining promotion activities, organization of professional events and support for attending them decreased drastically, 9 out of 10 physicians can sense this. A decline in sales rep activities is also significant, 42% of respondents said that in person meetings are fewer, and the same goes for supporting professional journals and hospital expense reductions. Significant increase is only visible in the intensity of contact via the internet. Almost every other physician feels that pharma companies are more active in this field.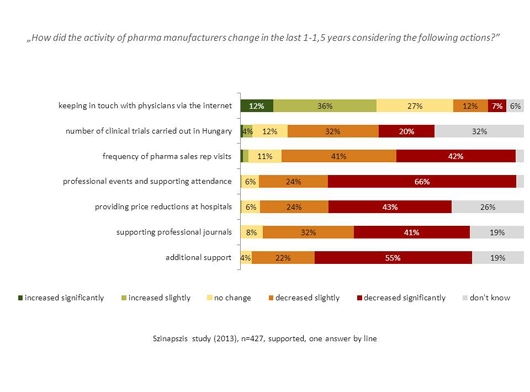 Generally a larger number of family practicioners (62%) feel the decrease of activities, compared to specialists (47%). Healthcare professionals participating in the survey named 46 pharma companies that they felt lowered their activities.
About the research
Szinapszis observed the opinions of physicians in connection with the topic in 2011 and 2013. On both occasions researchers used online survey with n=861 respondents in 2011 and n=427 respondents in 2013. Both surveys 75% of respondents were specialists from different fields while 25% of them were general practicioners. The survey was commissioned by the closed physician portal, DRportal.hu.
For more information about the research, contact Katalin Kiss head researcher.