Where is the pharmaceutical marketing today? – Physicians answer the question
2013-05-28 09:04:00
Research

Physicians do sense the change and are open to new communication solutions
Based on statements describing attitudes in connection with pharma marketing almost 70% of doctors think that for pharma marketing to survive in the changed industry environment with narrowing possibilities alternative communication, something different from the traditional solutions is necessary. Two-thirds (62%) of the physician community agreed that the time of traditional communication is over and stated that they are open to new possibilities. In the meantime almost every other respondent (55%) thought that pharma marketing in Hungary is especially behind in innovation if we consider the high standard of innovation our products represent.
It is interesting to note that when discussing the questions mentioned above, the opinions of general practitioners and specialists are uniform, there is no significant difference.
Traditional solutions can be replaced, complemented
The survey proved that the idea of transferring traditional solutions to online platforms partially or completely is not oncommon in the industry. Some years ago adopting these possibilities seemed almost impossible, but today one out of four physicians thinks that courses, round table discussions can be carried out online as well, while 10% of them thinks in-person visits and conferences can be adopted using these channels.
70% of general practitioners and specialists stated that due to the narrowing of possible communication forms the role of online professional physician communities and forums will definitely become more significant, they are open to visit these. Almost two-thirds of them (57%) already think that their relationship with a pharma rep can still be successful if the rep – in addition to in-person visits and based on the physician's preference – keeps in contact online (via Skype or email for example).
The perception of pharma rep visits is changing
The changing attitude mentioned above is the consequence of a serious, measurable shift. According to data gathered by Szinapszis the average number of weekly visits decreased almost to half among general practitioners as well as specialists, and the average duration of a visit declined to around 10 minutes compared to 15 minutes before. It is not surprising that the composition of representatives has changed too, reps cover significantly more generic products – even among specialists.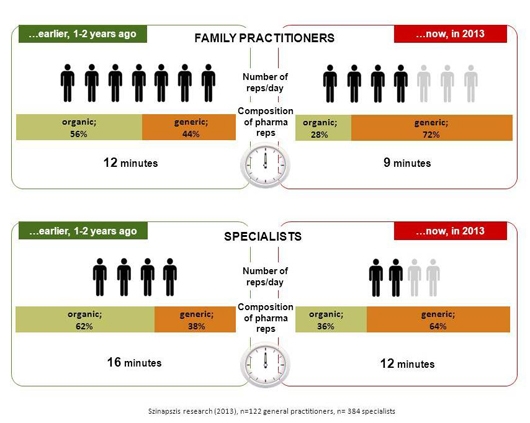 A strong majority of respondents (68%) thinks that the number of visits will continue to decline in the future, but it is unclear what kind of quality do they predict in connection with these visits. In our opinion this is positive, since it points to the possibility that while physicians know that the nature of visits is changing, the possibilities are narrowing, they do not have negative perceptions, as for now they are awaiting the future of pharma marketing.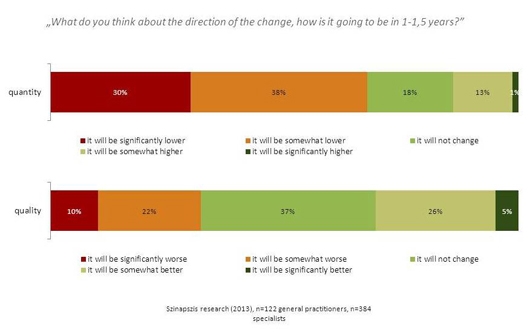 Pharma professionals also think that the preferences of physicians are very diverse when it comes to communication channels and professional content, therefore the future will be about individualised coverage and presentation in terms of depth and quality of information and the selection of communication channels (97%).
There is also a significant common agreement about the fact that pharma rep visits today are not (or should not be) only about providing information, since they represent a broader relationship where professional knowledge is "only" the foundation, communication skills and the ability of solving situations can provide the additional value (91%).
According to the results of the survey the medical community accepted that the internet can compliment the work pharma reps in the coming years (85%). It is interesting to note that while almost half of professionals (47%) strongly agrees that pharma reps need to keep up with new digital solutions, only 37% of reps think the same. There is also a significant difference in the attitudes of medical professionals and pharma reps when it comes to the necessity of the work of pharma representatives. While "only" 58% of physicians think that this form of professional presentation is irreplaceable, pharma reps significantly overvalue their profession with 79% stating that their work is absolutely necessary.
Overthinking the image of manufacturers could be beneficial
In terms of the future perception of manufacturers the changes in and the concious planning of their image will be an important question. Almost two-thirds of doctors (56%) already think that in the last 1-1,5 years their relationship with manufacturers bacame a lot more distant, and every other physician (46%) often feels that these companies are "faceless giants". Additionally 8 out of 10 (82%) doctors cannot really describe the relationship between pharma company and physician, they can rather talke about rep-physician relationships. The results were emphasized by the fact that reps described the same attitudes when asked about the doctors they visit.
The research was conducted via online surveys, the number of respondents was n=506, 24% of them general practitioners, 76% of them specialists. According to geographical situation, age, sex, number of patients the sample was diverse. 49% of respondents only work at government-operated institutions, while 3% of them work only in private practices, and 48% of respondents work for both.