Trust in healthcare services has not changed significantly in 4 years
2013-03-08 10:37:00
Research

The market research company last observed the trust of Hungarians in different healthcare services in 2008. Significant change compared to the results 4 years ago, that in some areas the rate of people having had some sort of experience (or at least perception) showed growth. About the trust in ambulances and patient transportation 44% of respondents could not provide feedback in 2008, while their percentage decreased to one-fourth of the original value by the end of last year. Only 40% rated the level of trust in private clinics and practices before. By 2012 their percentage almost doubled (75%) not surprisingly among younger groups more so.
Out of all the healthcare services studied, the view of family practices has not changed, almost 65% of the public still rates them with a minimum of 4 on a 5-point scale (an average of 3,8). Regarding outpatient, but especially inpatient hospital care these values decreased: from 3,4 to 3,2 for outpatient and from 3,3 to 3,1 for hospital care. An increase can only be registered in connection with the ambulance which the public rated an average 3,7 in 2008 and 3,9 in 2012.
It is interesting to point out that the level of trust in private healthcare services also declined in the last 4 years (from 4,3 to 4,1). The reason behind this could be distributed to the rather fast expansion of this field in the last couple of years, which means that the quality of services provided could also differ on a wider scale. On the other hand the expectations of growing demand are becoming higher while in a more differentiated market environment customers are becoming more critical as well when rating the services received for their money. Still, the level of trust in the private healthcare sector has a significant lead, especially among young people. (According to the research last year around 26% of the public used privately financed healthcare services.)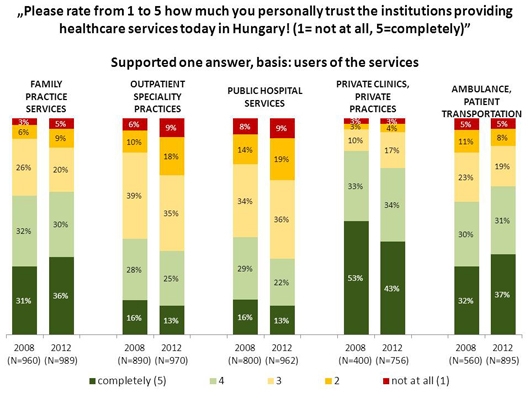 About the research
Szinapszis Ltd. conducted the surveys via phone in December of 2012 examining the level of trust in healthcare services among the Hungarian public. The number of respondents was 1002, the sample is nationwide and representative according to age (18+), sex, region and type of settlement for the entire country. Szinapszis Ltd. last studied the topic mentioned above in 2008 using similar methodology and sample.