Research on Private Healthcare Spending
2016-11-04 00:00:00
Research
We spend more than 25 thousand forints a year on medicine per capita
A Hungarian household spends more than 180 thousand forints to healthcare and health, and one third of these expenses is spent on medicine – reveals a research of Szinapszis Market Research and Consulting Ltd.
Calculating with a bit more than 4 million households, Hungarian households spend annually nearly 540 billion forints on healthcare.
How expenses are divided?
· 45% of the specific healthcare – treatment, medicine, various products – expenses are spent on medicine.
· Hungarian households spend every tenth forint on private medical examinations and treatments of healthcare expenses (they spend approximately the same amount for paying gratuities as well).
· 20% of the expenses are spent on purchasing medical devices, but this rate is similar in case of nutritional supplements and homeopathic, herbal products.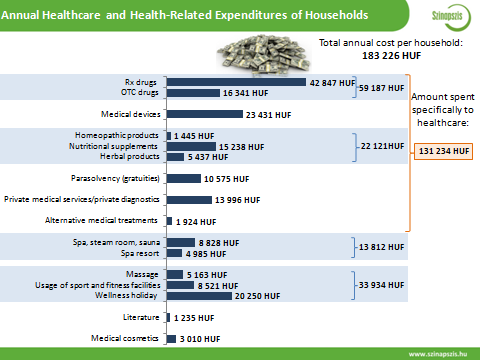 Most spent on: medicine
The most money is spent on medicine (43 thousand forints on Rx, 16 thousand forints on OTC products). Only third of this amount is spent on medical devices, homeopathic, herbal products and nutritional supplements.
It means spending 25 thousand forints annually per capita only on medicine consisting of 18 thousand forints on Rx and 7 thousand forints on OTC products).
Besides treatment, health preservation also has a significant place
Following expenditures on medicines, second highest amount is spent on health prevention by Hungarian people – an average household spends 13 thousand forints annually on medicinal baths and spa resorts. Similar amount is allocated to purchase private medical service. Medical cosmetics and alternative medical treatments have only a minor share of the household healthcare budget.
What types of private medical services do the households take advantage of and how much do they spend on these?
The most popular private medical service – dental treatment – was used in the last one year by almost half of the respondents. They saw their dentists three times a year on average, and spent nearly 66 thousand forints a year (it means 20 thousand forints on average per occasion).
Besides Dentistry, usage of the following services is above 10%:
· Obstetrics, Gynaecology and prenatal care
· Dermatology
· Ophthalmology
· GP
Every fifth person of the respondents are clients of gynaecological, or related – prenatal, obstetric – services. They visit private medical offices 3 times a year on average, which means annually 20 thousand forints of cost for them.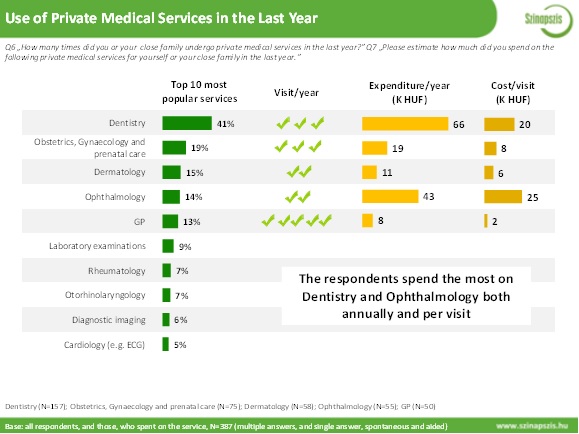 Number of buyers of dermatological and GP services are almost equal, but while they visit Dermatology twice a year on average, they go to private GPs five times a year. There is no significant difference between the yearly cost of the two services (8 and 11 thousand forints), but there is a remarkable difference between the cost per visit: cost of a Dermatology occasion is around 6 thousand forints; however, a private GP visit costs only 2 thousand forints.
The most money consuming private medical service
Ophthalmology services demand the largest amount of cost per visit: the buyers leave 25 thousand forints at the private medical office – this amount is usually paid by the respondents twice a year.
Methodology: The research was made by Szinapszis Ltd. interviewing 387 respondents. The online research is representative to age, gender, region and settlement type of the Hungarian population above 18 years of age.
Balázs Kertész
Innovation & Managing Director
Szinapszis Market Research and Consulting Ltd., member of Quercus Consulting Group