Hungarian physicians like tablet-assisted visits
2013-10-29 06:24:00
Research

On average 60% of physicians in Central and Eastern European countries (CEE) are visited with tablets by pharmaceutical companies, and the majority of doctors are positive about this form of visits – 13% of them think they are very useful, while 30% of them said these kinds of visits are rather useful. Compared to the region Hungary is considered the most active from this aspect since on average 85% of doctors are visited somewhat regularly with these tools. This is the highest ratio among CEE countries. Similar activity can be observed in Poland and Romania, while Serbian and Croatian physicians are rarely visited by pharma reps using tablets.
The study shows that there is no general trend in terms of the attitudes of GPs and specialists towards assisted visits, since in some countries (like in Hungary) their attitudes are mainly similar, while in other countries (like in Romania) there are significant differences in the opinions of doctors about this way of keeping in contact.
At this point this form of communication is still a novelty in Hungary, 19% of physicians think of it as a positively useful, 45% of them as a very useful tool during visits.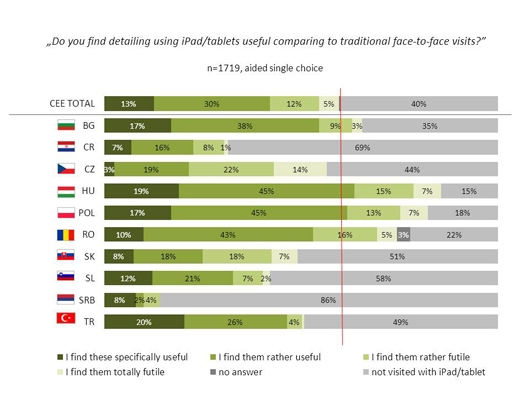 About research:
Szinapszis has been carrying out research about the internet usage of Hungarian physicians annually since 2004. In 2012 we introduced a broader range of topics and we extended the study to include 9 countries in Central and Eastern Europe with 1.700 participating physicians making the study one of a kind in the region. Countries included: Poland, Czech Republic, Slovakia, Hungary, Slovenia, Croatia, Serbia, Romania, Bulgaria, and Turkey. Read more here: MedNetTrack CEE